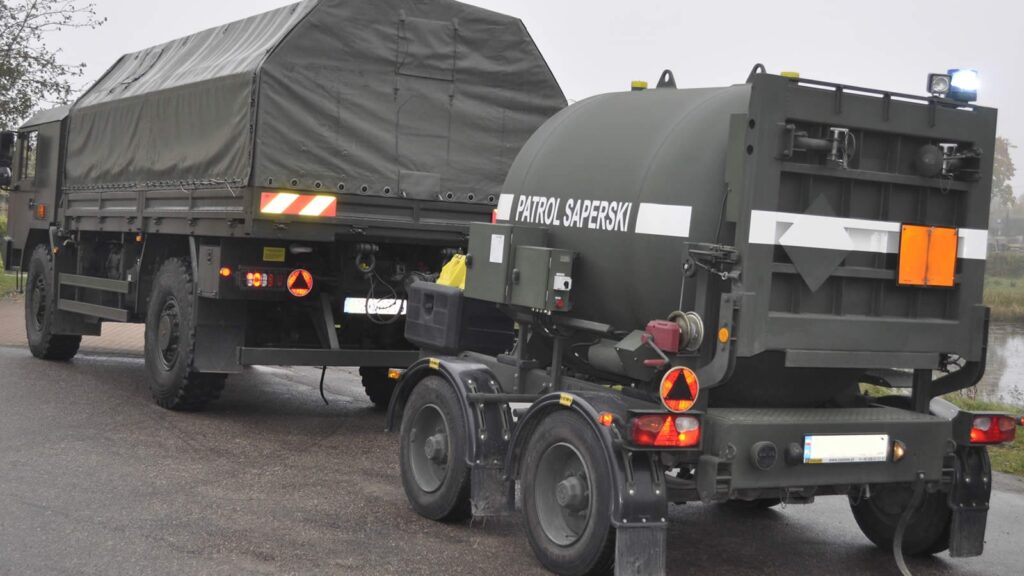 WIKTORIA container
The Wiktoria anti-fragmentation, ventilated container is intended for the safe transport of medium-sized munitions and misfires containing up to 10 kg of TNT equivalent, undertaken by military clearance patrols or other engineering units. It can also be used at airports, ferry terminals and automatic shipment sorting facilities to quickly isolate suspicious packages, letters or luggage that may contain explosives.
The container mounted on the trailer can be used in various weather and climatic conditions, it is able to move on dirt roads. Effectively protects people and the environment against shattering debris in the event of an uncontrolled explosion of unexploded ordnance and misfires and other dangerous explosives transported inside the container.
The lowered transport platform allows easy access to the loading window for people taking up unexploded bombs and misfires and other suspicious objects that may contain explosives, as well as the use of an engineer robot to perform the above-mentioned activities without human intervention.
The inner liner consists of a trolley, a transport drawer and a load box. The elements run on guides. The trolley moves inside the body of the anti-fragmentation container, while the load box slides out, together with the transport drawer, beyond the flange of the loading window.
Resistance up to 10 kg of explosive charge in TNT equivalent.
The maximum weight of the transported object – 150 kg.
Installation on a two-axle trailer.
Lowered loading platform.
Loading window closed automatically, with the possibility of manual closing.
Maximum load dimensions (LxWxH) 800 x 460 x 200 mm.