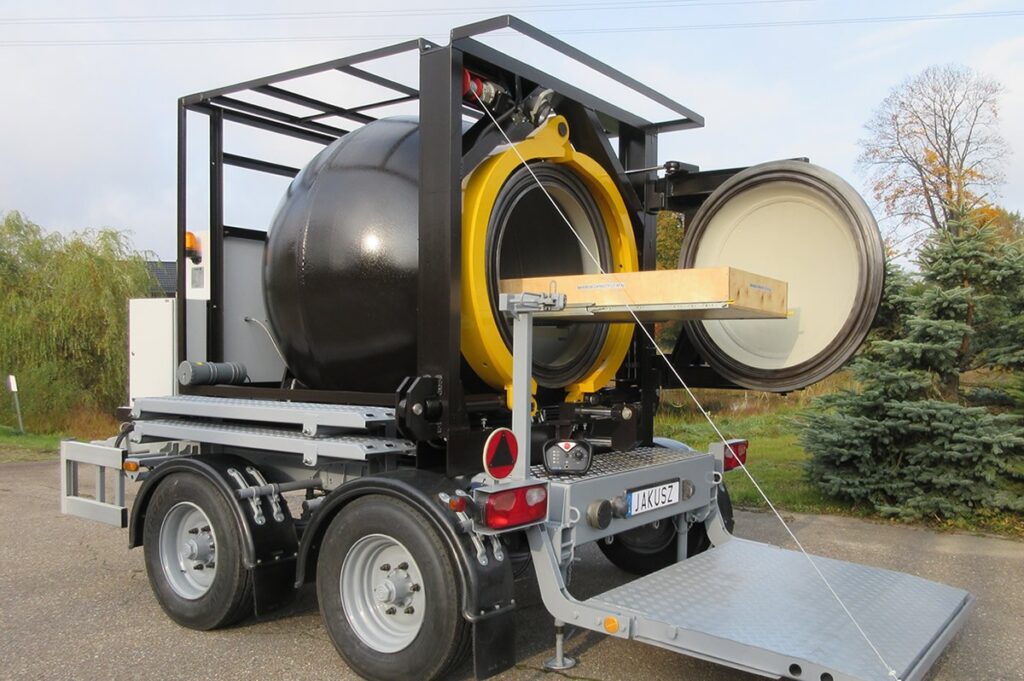 EVA explosion-proof container
The gas-tight explosion-proof EVA container installed on the trailer is resistant to multiple detonations of explosives in the equivalent of up to 8 kg of TNT.
It can be used at airports to quickly and safely isolate suspicious luggage and transport it by appropriate services to the place of neutralization.
The container opening / closing system minimizes the risk to operators. Remote lowered platform (wired or wireless controlled) provides easy access to the loading ledge for operators or a robot.
Features:
The container is equipped with a decontamination system that allows for the retention and neutralization of toxic gases.
Max. load mass in TNT equivalent: 8 kg.
Fully automatic container opening / closing system.
Remote lowered platform (wired or wireless controlled).
Possibility of cooperation with a sapper robot.
The construction of the container prevents the radio detonation of the explosives placed inside.
Possibility to take a gas sample at any time during the purification process. Protection of people and the environment against the effects of the explosion of hazardous materials (explosive, biologically or chemically active).
Weight – 6500 kg
Dimensions – container ready for transport – 2700 x 2480 x 4900 mm (H x W x L).
The diameter of the loading opening – 900 mm.
Loading drawer dimensions – 1170 x 670 mm.
Maximum dimensions of the transported cargo – 450 x 650 x 1150 mm (H x W x L).