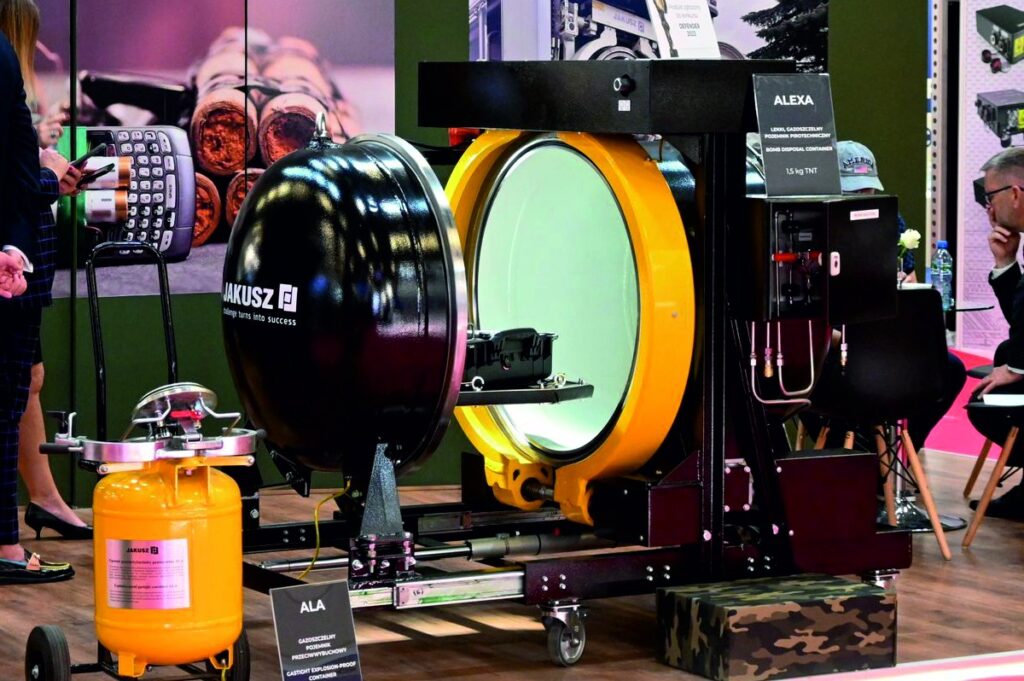 ALEXA LIGHT WEIGHT GAS-TIGHT EOD CONTAINER
Gas-tight EOD container design provides:
maximum level of protection against shock wave, fire and fragmentation,
strengthening CBRNE security,
rapid isolation and transport of hazardous materials with a maximum weight of 1,5 kg TNT equivalent,
isolating hazards and moving them away from populated areas.
A cost-effective, mobile, easy-to-use solution for: special forces / border guards / police / bomb disposal units / public facility security services.
The ALEXA container is suitable for mounting on a robotic drive unit and on a pick-up chassis enabling:
placing close to the hazard and fast isolation of hazardous materials,
rapid movement to the place of danger, in crisis and war situations,
operating in confined spaces and heavy traffic areas.
Additionally
the design of the ALEXA container allows sampling of post-detonation gases from a closed container and:
checking pressure inside the container body,
venting of gases after detonation,
sampling of gases from inside the container into special containers for further analysis.
Parameters:
wired or radio remote control,
fully automatic container opening/closing system,
possibility to work with a EOD robot,
wide range of carriers/vehicles to use in terms of permissible gross weight of the vehicle.
Technical parameters
| | |
| --- | --- |
| Maximum explosive | 1,5 kg (TNT) |
| Type of container | gas-tight |
| Maximum weight of transported object | 50 kg |
| Maximum size of transported object | 600 mm x 450 mm x 400 mm  (LxWxH) |
| Maximum size of the container | 1500 mm x 1200 mm x 1300 mm (LxWxH) |