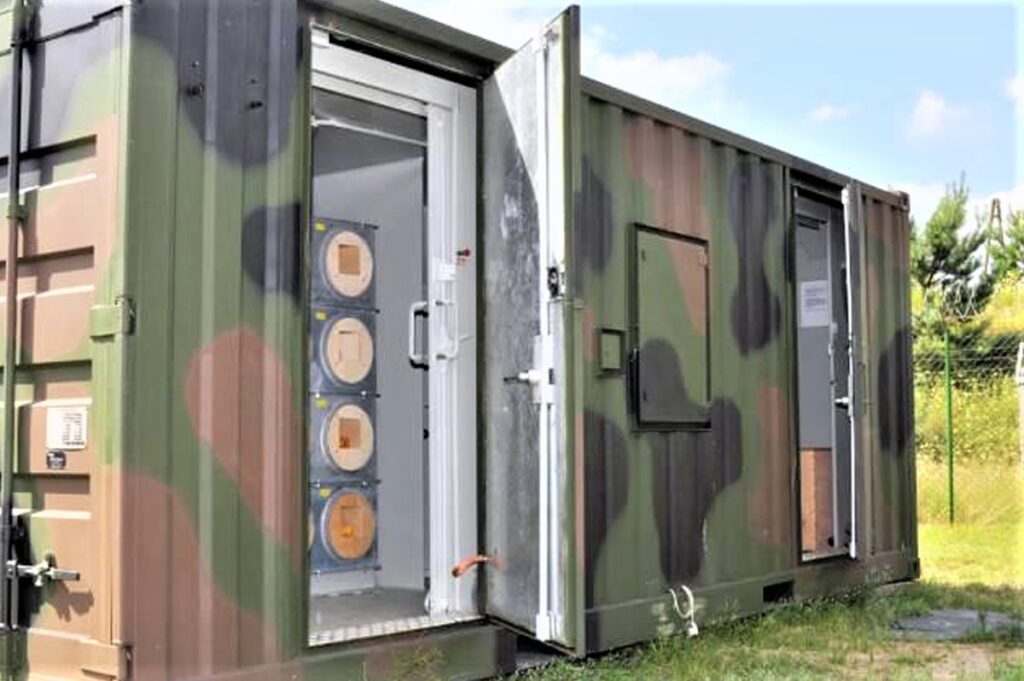 Container Warehouse of Explosives (KMMW)
Container Warehouse of Explosives (KMMW) is used for the safe storage of blasting explosives, plastic explosives, initiating agents as well as unexploded ordnance and misfires, alternatively, as a storage for resources intended for training (shooting, combat and training ammunition and battlefield simulation). In KMMW you can simultaneously store explosives up to 50 kg in TNT equivalent, 5 boxes of shooting ammunition and grenades, and 1000 pcs of initiating materials. The design of the container also allows for the adaptation of its interior to the customer's needs.
KMMW is a specially developed structure based on the external dimensions of ISO 1C containers. KMMW is equipped with internal armor, made of steel plates with a thickness and structure ensuring resistance to an explosion inside it, a limited amount of explosive material and an adequate level of protection against fire.
Field tests confirmed the resistance of the KMMW armor to:
an explosion inside a 100 mm OF-412 high-explosive shell (1.5 kg TNT),
152 mm caliber shell exploding out
exploding F-1 grenade placed on the roof,
firing 7.62 mm and B32 ammunition from a distance of 100 m.
Container Storage of Explosives is equipped with:
internal armor made of steel armor plates;
electrical installation;
installation of an alarm system with optical and acoustic signaling;
lightning protection and anti-electrostatic installation.
KMMW container has standard container corners (upper and lower – 8 pcs in total) and pockets for forklift trucks.
The configuration and equipment of KMMW can be selected depending on the needs and requirements of the customer as well as the type and amount of MW that will be stored in it. The container warehouse for explosives can be made in various color versions.