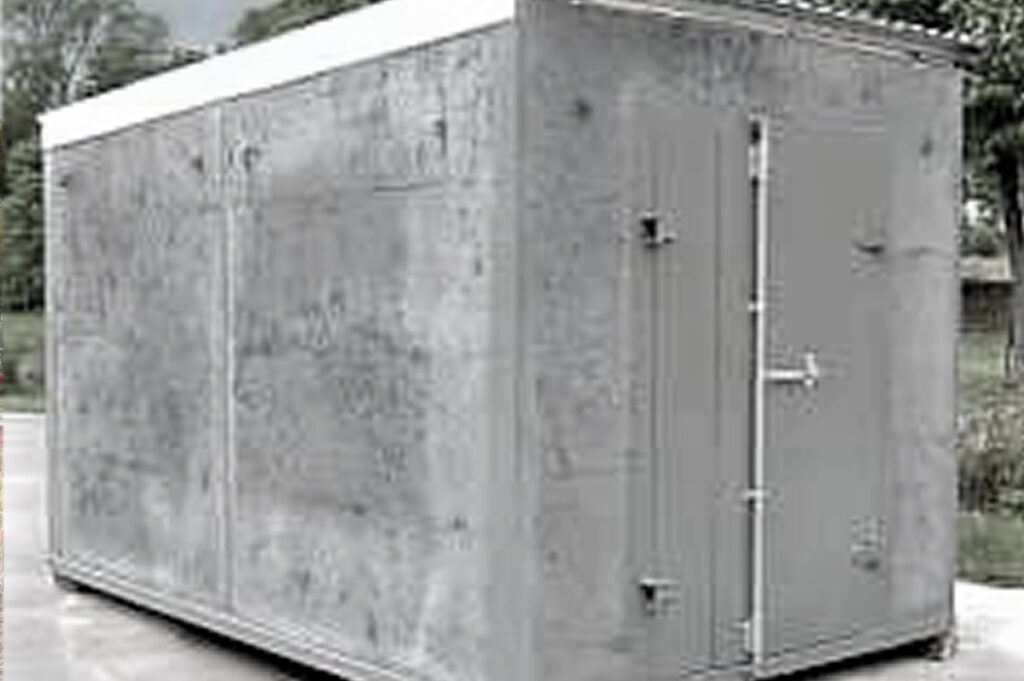 PIRO magazine
PIRO explosives warehouses are intended for the storage of:
– up to 1000 kg net of explosives classified as class 1, subclass 1.3, compliance group G according to ADR, with a minimum safety distance of 50 m towards the door of the warehouse, without the need to determine minimum safe distances in other directions;
– explosives classified as class 1, subclass 1.4, compliance groups G and S according to ADR, without quantitative restrictions (up to the full volume of the warehouse), without determining the minimum safe distances.
The PIRO warehouse is dedicated to the storage of mainly spectacle pyrotechnics, although it can also be adapted to the storage of other explosives classified under the above-mentioned classes of hazardous materials in accordance with ADR, used in various industries (e.g. pharmacy, automotive).
PIRO is characterized by resistance to high temperature and mechanical strength resistant to the action of an explosive material. The warehouse body is made of a single spout of a specially developed reinforced concrete composite. The ceiling is made of a reinforcing mesh that provides protection against unauthorized access and allows the roof sheathing to be rejected in the event of an explosion of the warehouse contents. The equipment also includes doors equipped with a container lock and electrical installation. The warehouse is adapted to be transported by generally available means of transport (platforms for transporting heavy equipment).
Internal dimensions:
width – 2200 mm
length – 4400 mm
height – 2210 mm
External dimensions:
width – 2400 ± 50 mm
length – 4800 mm ± 100 mm
height – 2457.50 ± 50 mm
Magazine weight: 14,000 kg