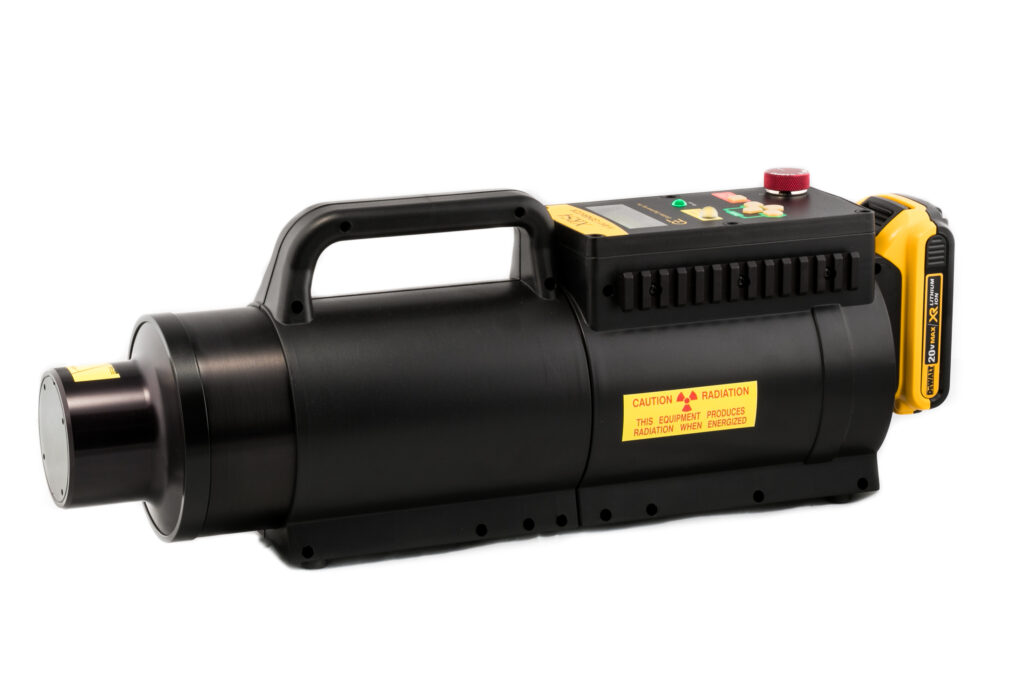 The XRS4 is a 370 kV, battery powered, pulsed X-ray generator used in security and light industrial applications.  Golden Engineering introduced the XRS4 in 2010 to provide a significant increase in penetrating ability compared to previous models.
The XRS-4 has the same concept as other models with a single package design that includes a DeWalt battery pack, high voltage head, sturdy glass tube, and electronic controls.  Two features unique to the XRS-4 include a robust aluminum housing, and a bellows located in the handle.  Both of these features improve the durability and longevity of the generator.
The electronics control module was updated in 2015 to include a menu based design that greatly enhances operator interface capabilities.  The menu allows operators to change the pulse rate of the machine, set multiple pulse trains with appropriate rests between, easily track the life of the machine.
The XRS4 has been redesigned in 2018 and has the same modular housing as the other models. It is now powered by a DeWalt 20V battery and has an 80 character LCD and expanded menu options.
Weighing 19 pounds the XRS4 is significantly larger and heavier than other Golden Engineering generators.  A 370 kv generator that penetrates more than 1.5 inches of steel and weighs less than 25 pounds is still considered extremely portable by industry standards.