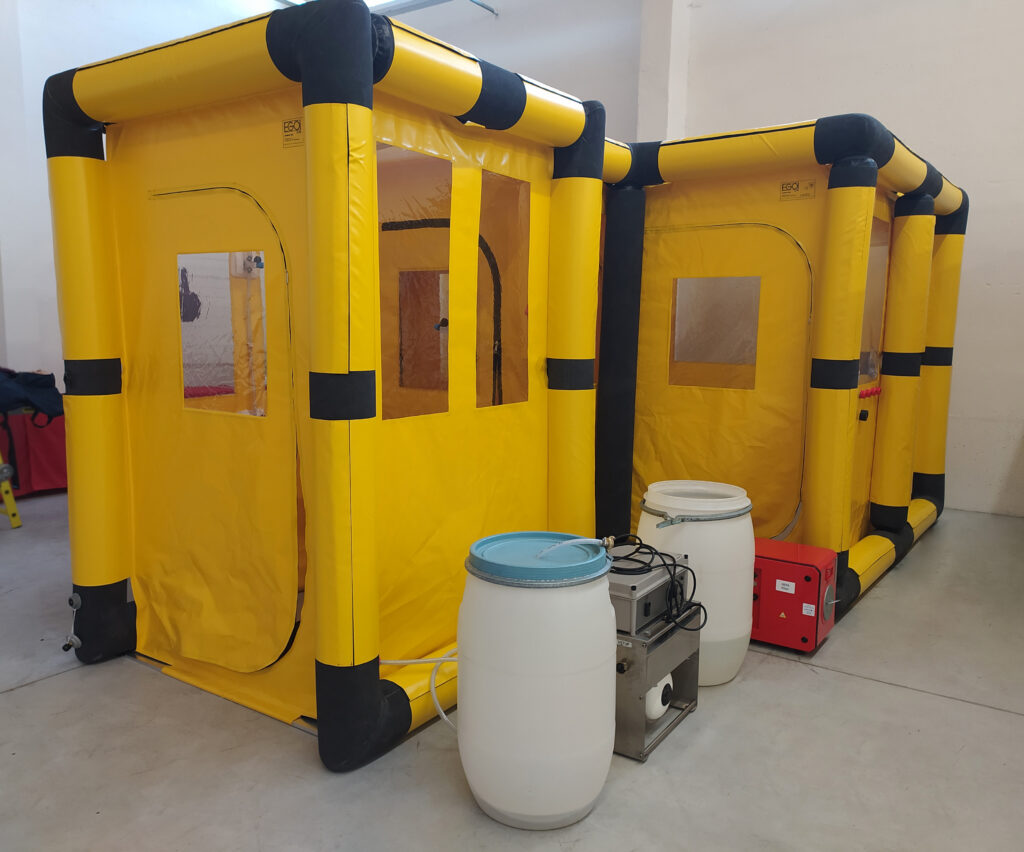 Mobile device for long-term hospitalization and isolation Biobox EBXT
The Biobox is an isolation chamber designed for safe isolation of persons infected with highly contagious disease or persons affected by biological agents and microorganisms. The device is used to protect the external environment and persons from infected or contaminated patients, or things placed inside the chamber. The isolation chamber allows care for the patient in order to prevent contamination of the devices and infecting the staff. Monitoring devices, infusion stands, patient ventilation devices, etc. can be placed outside the chamber and are brought through the chamber wall by special hermetic inlets.
Filter-ventilation unit is connected to the wall of the isolation chamber and ensures the best available biological protection.
The filter-ventilation unit removes the contaminated air by suction from inside the isolation chamber; it conducts filtered, clean air away of the isolation chamber through HEPA filters.
This creates conditions for the stay of infected persons and the movement of nursing staff without the need to use individual means of protection.
The Biobox provides BSL-3 standard level of protection.
The Biobox is designed on the inflatable tubular construction, enabling great mobility of the construction. The whole system can be easily commissioned within 15 minutes.
Technical parameters:
External assembly dimensions: 5,35 x 2,5 x 2,45 m (l x w x h)
Weight of assembly: 103 kg
Necessary accessories:
filter-ventilation unit including filters
Optional accessories:
Decontbox, water distribution
Compressor for inflation