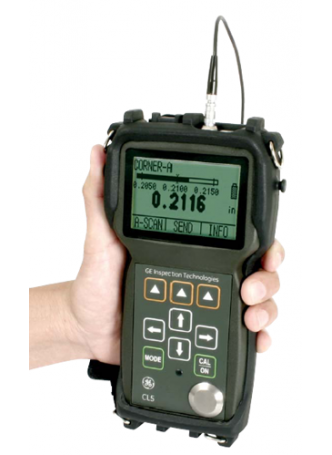 The CL5 is used for precise thickness measurements of metal, steel and plastic components whose complex geometry often makes them difficult to inspect with conventional gauges. It's is able to display the ultrasonic response in real-time by using the optional live A-scan to properly align the transducer and verify the accuracy of the test as components become more complex in shape. The user-friendly design of the CL5 provides intuitive operation, with easy to understand on-screen prompts, with no need for dedicated keys.
Key Benefits
Data management provided through an optional programmable data recorder, using a standard SD card
Enhanced measurement performance resulting in highly stable and repeatable readings
Snapshot A-Scan on all models for probe alignment and data control
Rugged housing, environmentally sealed to be used almost everywhere
Flexible power supply with 3 standard "AA" batteries or one-Lithium-Poly battery pack (rechargeable in the instrument)
Operating temperature range from -10°C up to 60°C
Hollow / Filled thickness digits indicating coupling status
Visual LED alarm for High and Low limit
Customer parameter set ups for special configurations and quick instrument configuration
Multi-language user interface
Other Benefits
Automatic control of ultrasonic parameters (gain and gate controls)
Six different measurement and display modes for application specific operation
Wide variety of contact and delay line probes
Optional Live A-Scan and Programmable Data Recorder with SD memory card
Optional velocity mode for sound velocity determination
The instrument can be held in one hand or placed on flat workpieces, making the CL5 a compact way to test your material for the required thickness or checking for sheet corrosion.
Usage
The CL5 is an easy-to-use precision thickness measuring solution for components used in the automotive and aerospace industries, such as:
Cast and stamped metal components made of aluminum, steel, copper, bronze
Machined workpieces
Chemically milled components
Metal strips, metal plates
Plastics and composites
Glass
 Brochure