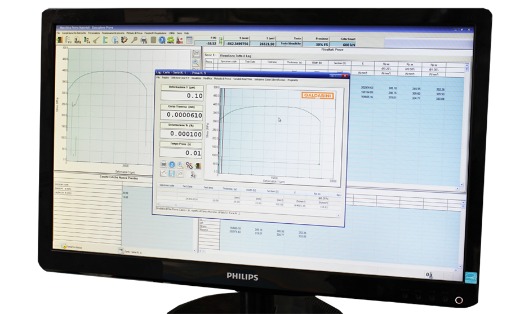 THE USER INTERFACE OF OUR SOFTWARE GRAPHWORK FOR TESTING MACHINES AND WINIMPACT FOR PENDULUM ALLOWS THE OPERATOR TO PROGRAM FUNCTIONS EASILY AND INTUITIVELY
Graphwork is a complete-packaged application that is pre-installed with a library of hundreds of test methods and allows customers to create their own test methods – interactive help is provided. The program is designed in an open and interactive way to meet the different needs of laboratories and industry and provides an ideal solution for the efficient and complete handling of tests on materials and components.
It is supplied with numerous methods according to the International standards (ASTM,ISO/EN,DIN ..) to perform universal material tests on metals, plastics, polymers, various alloys, cement, composites, wood, and ceramics using material testing machines. Data results may be stored, analysed, transferred and included in personalised test reports.
WinImpact allows to:
Display, store and print the results of the performed tests
Manage easily the statistic control with graphic display of the test results
A dedicated package of hardware and software is designed for instrumented impact test.