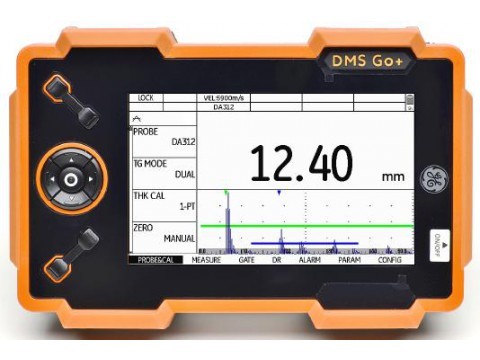 The new USM Go+ takes field inspection NDT to the next level. Light, handy and controlled by an intuitive arrow-keypad, it has the latest industrial electronics under the hood and offers excellent ultrasonic performance which allows for reliable detection of defects located just below the surface of the test piece.
The USM Go+ portable flaw detector benefits include:
A truly portable, all-in-one solution. This ambidextrous instrument weighs less than two pounds (907 grams), is housed in a thoughtfully ergonomic package, and has an intuitive arrow-keypad for fast one-handed navigation and precise adjustments.
Record best-in-class high-definition inspection videos. A 800 x 480 pixel resolution LCD screen can record and store up to eight minutes of video. The adjustable screen display allows equally easy use in direct sunlight and subterranean conditions.
Wide range of flaw detection capabilities. Excellent near-surface resolution enables reliable flaw detection just under the surface. Use at low PRF to inspect forged parts without any "ghost" echoes and a high PRF when fast scanning is required, all thanks to a wide Pulse Repetition Frequency range.
 Brochure
 Catalog