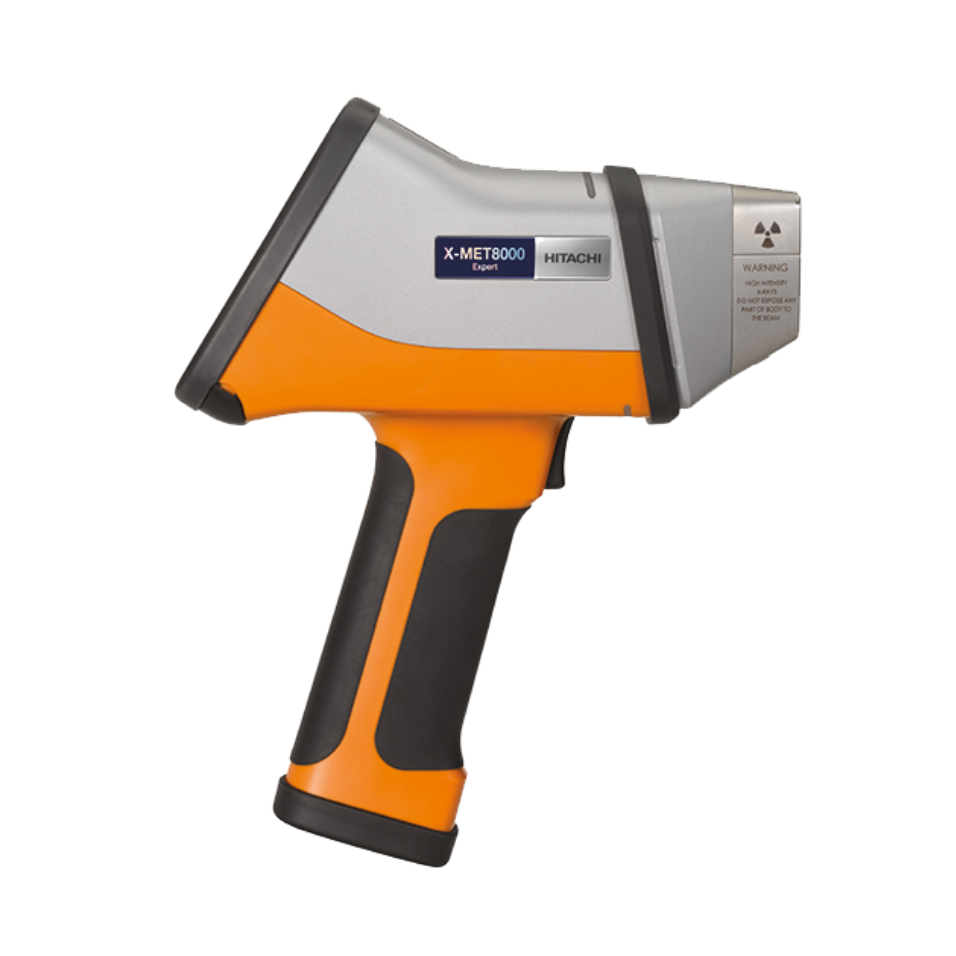 The X-MET8000 range of handheld X-ray fluorescence (HHXRF) analyzers delivers the performance needed for rapid alloy grade identification and accurate chemistry of a wide variety of materials (solid and powder metals, polymers, wood, solutions, soil, ores, minerals etc). The X-MET handheld XRF analyzer (HHXRF) is practical, robust and easy to use to deliver results you can trust.
We provide a range of HHXRF models to suit all analysis needs and budgets for different applications. Our range of handheld XRF analyzers now come with a 3-year warranty* and new service and calibration programs to help save you money.
Why choose an X-MET handheld XRF analyzer?
Superior performance
The X-MET XRF analyzer provides great light elements (Mg, Al, Si, P, S, Cl) analysis, low limits of detection, and outstanding precision for results you can trust, day after day.
Test a wide range of materials with its versatile standardless fundamental parameters (FP) methods, or use its empirical calibrations when results traceability and superior accuracy are needed.
Easy to use
With its large touchscreen and icon-driven user interface, the user training required to operate it is minimal.
Superb ergonomics
Light (it's only 1.5kg), compact, and balanced, you can use the X-MET for long periods of time with minimum fatigue.
Robust for low cost of ownership
IP54 compliant (equivalent to NEMA 3), splash water and dust proof, you can use the X-MET confidently indoors or outdoors.
Tested to the MIL-STD-810G military grade standard for robustness. It also comes with a 3-year warranty*.
Its optional shield prevents costly detector repairs when measuring rough surfaces.
Advanced data management
Total flexibility: Store up to 100,000 results on-board the X-MET, export reports on a USB flash drive or a PC, or automatically store the X-MET data securely in the LiveData cloud.
Compare Models
| | | |
| --- | --- | --- |
| X-MET8000 Smart | X-MET8000 Optimum | X-MET8000 Expert |
| ✓ X-ray tube : 40kV | ✓ X-ray tube : 40kV or 50kV | ✓ X-ray tube : 50kV |
| ✓ X-ray tube filters: Single | ✓ X-ray tube filters: 6 position filter changer | ✓ X-ray tube filters: 6 position filter changer |
| ✓ Detector: Large area SDD | ✓ Detector: Large area SDD | ✓ Detector: Large area SDD |
| ✓ Max. sample temperature : 100ºC | ✓ Max. sample temperature : 100ºC or 400ºC with HERO™ heat resistant window (optional) | ✓ Max. sample temperature : 100ºC or 400ºC with HERO™ heat resistant window (optional) |
| ✓ IP54 rating | ✓ IP54 rating | ✓ IP54 rating |
| ✓ Protection against detector window damage : Window shield | ✓ Protection against detector window damage : Optional window shield | ✓ Protection against detector window damage : Optional window shield |
| ✓ Calibrations : Standardless (FP) | ✓ Calibrations : Standardless (includes light elements analysis) | ✓ Calibrations : Standard + automatic selection of empirical calibrations (traceable to certified reference materials) |
| ✓ Integrated camera (Optional) | ✓ Integrated camera (Optional) | ✓ Integrated camera |
| | ✓ Small-spot collimator (Optional) | ✓ Small-spot collimator (Optional) |
| | ✓ 6-position filter wheel for the optimized analysis of all elements from Mg to U | ✓ 6-position filter wheel for the optimized analysis of all elements from Mg to U |
X-MET8000 Brochure PMI inspection
X-MET8000 Brochure Manufacturing QA & QC
X-MET8000 Brochure Expert Geo, soil
X-MET8000 Brochure Expert Geo, mining