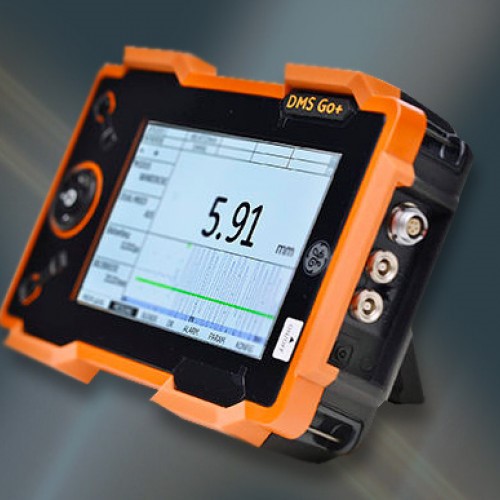 The new DMS Go+ Series of A-scan thickness gauges provides accurate, reliable and comprehensive thickness inspection data in a wide range of applications and environments.
All three models feature intuitive, easy-to-use arrow-keypad control and carry out from simple A-scan verification to B-scan and full Data Recording. The three thickness gauges are easy to upgrade with additional features and capabilities in order to form a powerful and flexible NDT inspection tool that meets your corrosion thickness application needs. There are three models to choose from – DMS Go+ Basic, DMS Go+ and DMS Go+ Advanced.
The DMS Go+ Series uses the same operating platform and hardware as the state-of-the-art USM Go+ portable flaw detector. This offers the ability to have an A-scan thickness gauge and full-fledged flaw detector in one powerful & flexible instrument.
Flexible Performance
Ergonomic design for easy operation
High performance thickness measurement
High capacity data recorder and compatibility with powerful data management systems
Intuitive arrow-keypad for positive digital control of parameters
A "Flip" function allows use by both left-handed and right-handed operators
Portrait or landscape views to match user preference
A large, 800×480 pixel, display screen, ergonomically sized to reduce eyestrain, which can be adjusted to provide optimum visibility in various ambient light conditions
Small size, lightweight (870g, 1.9lb), robust construction to IP67 for operation in harsh environments
Automatic gain control for excellent repeatability and corrosion monitoring
Cutting-Edge Technology
Built-in temperature compensation for accurate measurement up to 540°C (1000°F)*
Save and load parameter sets for easy recall and repeatability from inspection to inspection
On-board data recorder, with capacity of thousands of thickness readings, with storage of A-scan, B-scan and MicroGrid attachments*. The DMS Go+ and DMS Go+ Advanced models offer expanded data recording capability with additional boiler, custom grid, custom linear, custom point, and 3D, & 4D file structures via UltraMATE
Data transfer is by SD card or via USB port to PC. Data can be transferred in various file formats to allow easy integration with user data management systems
Export data in multiple file formats (e.g. CSV, PDF, DAT, XML, JPG screen capture)
Compatible with many of the popular mechanical integrity risk-based inspection data management analysis programs. SDK (software development kit) available to link to other software programs
 Brochure