VACUUM BOXES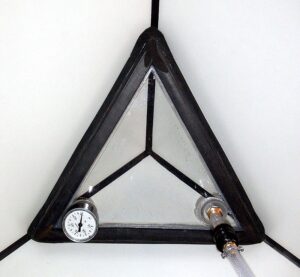 VACUUM BOXES
When using VSP-units, the area to be tested (the welding seam or the casting surface) is moistened with a foam-forming inspection material, e.g.  MR® 99 Leak detection spray  Then the area is covered with a vacuum box. The vacuum box is connected to the leak detection unit by a vacuum hose and is evacuated very quickly.
The break-proof inspection glass made of highly transparent, flexible plastic has a special soft rubber seal and is adapted to the geometry of the test area. The vacuum box is evacuated by a freely swivelling valve which seals in any orientation. The valve has a conical adapter for the vacuum hose.
Under the inspection glass of the evacuated vacuum box foam shows up where air flows through continuous discontinuities. To ensure that even tiny leaks become visible the vacuum under the box must be maintained for at least 30 seconds.